FIJA Supply Shop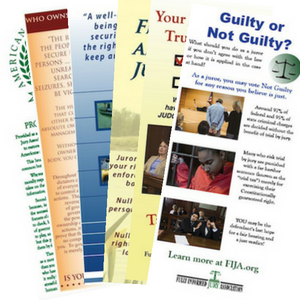 Click here for our selection of brochures available for purchase. Our stock includes:
our new Guilty or Not Guilty? rack card
our freshly-updated Your Jury Rights: True or False? full-color tri-fold
our Fresh Air for Justice, Who Owns Your Body?, and Jury Protection for the Second Amendment full-color tri-folds
our single-color quad-fold Primer for Prospective Jurors
Jury Power Information Kits (JPIKs) that contain a selection of FIJA brochures and an informational letter
SALE 
Due to high inventory, we are currently running a special on our Who Owns Your Body? brochures. Get these now for the lowest price of any of our brochures or rack cards!
---
Click here for other publications available for purchase. These include the Citizens Rule Book, The Lysander Spooner Reader, and essay-length booklets containing Lysander Spooner's Trial by Jury, Chapter 1, Harvey Wysong's The Jury's Business Is Justice, and former Washington State Supreme Court Justice William Goodloe's Jury Nullification: Empowering the Jury as the Fourth Branch of Government.
---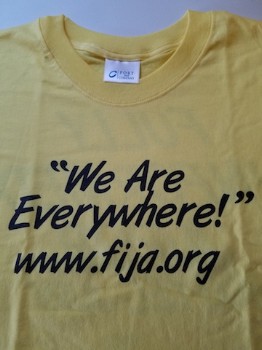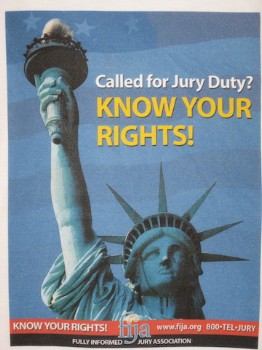 SALE 
All our remaining Know Your Rights and We Are Everywhere T-shirts are currently available at rock bottom prices covering our shipping costs only as we clear our old inventory in preparation for new designs! Limited sizes and quantities are available on a first-come, first-served basis.
---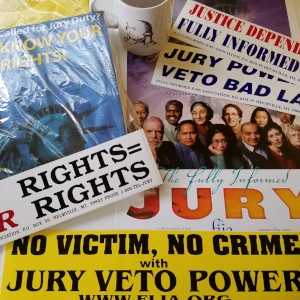 Click here for a selection of other items such as bumper stickers, posters, etc.
---
Activist and Event Kits
Kits are coming soon!