Happy Jury Rights Day!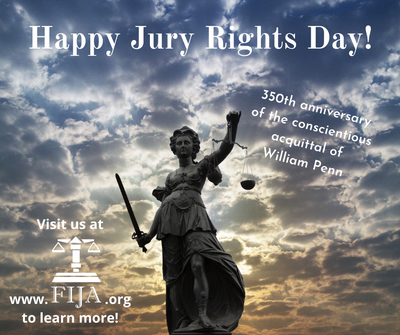 Happy Jury Rights Day! This is the 350TH ANNIVERSARY of the conscientious acquittal of William Penn. Each year for more than 25 years, FIJA has celebrated Jury Rights Day in commemoration of this landmark case in jury rights history.
The triple whammy of Jury Rights Day falling on a Saturday, a holiday weekend, and in the midst of a pandemic has made standing outside of courthouses handing pieces of paper to strangers somewhat impractical this year. So we're taking the celebration online!
Throughout the day you will see stories of individual cases where jurors were critical to a just outcome told by friends of FIJA. Check our 2020 Jury Rights Day page periodically as new videos are posted each hour.
First up will be the story of John Lilburne's treason trial, told by FIJA Vice Chairman Robert Anthony Peters. It will premiere at 12:15 pm Mountain! We'll also have stories from Clark Neily, Vice President for Criminal Justice of the Cato Institute; J.D. Tuccille of Reason magazine; Joe Grumbine, founder of The Human Solution International, and more!