Jury Rights Day
FIJA has celebrated Jury Rights Day on September 5 each year for more than 25 years to commemorate the famous case of William Penn in 1670 which laid the foundation for the right that jurors have still today to conscientiously acquit someone by jury nullification. 2020 marks the 350th anniversary of this famous case, which helped ingrain freedoms of religion, speech, and assembly in United States culture and law.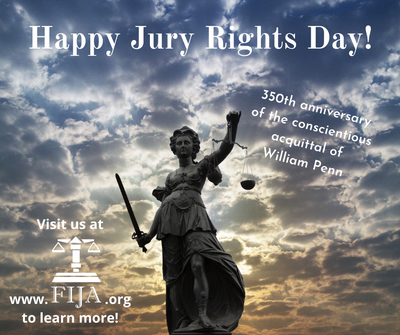 Celebrate Jury Rights Day
Please join us this year in celebrating Jury Rights Day online!
2020 has brought some unique challenges, to say the least. This year, Jury Rights Day falls on a Saturday during a holiday weekend. Ordinarily, that would make it challenging to get people out to courthouses to share FIJA literature. But the extra factor this year of being in the midst of the COVID-19 pandemic has made our usual outreach all the more difficult. Understandably any people are far less amenable to interacting with, handing materials to, or receiving materials from strangers when they perceive that is a risk to health or life.
Therefore, this year we will be celebrating primarily online! I have recruited several friends of FIJA to share stories of specific cases where jurors played a critical role in a just outcome. These video stories will be added to this page periodically throughout the day starting around 12:15 pm Mountain time and continuing throughout the afternoon. Please check back frequently to hear historic stories such as those of John Lilburne, John Peter Zenger, and William Penn as well as several from within our lifetimes that you may not already have heard.
I encourage you to share these stories with family, friends, and others via email and social media to help create more fully informed jurors! 
This will be an ongoing project for FIJA throughout September. If there is a specific story you would like see covered in a 3-5 minute segment, let us know! We aim to tell one focused story of a specific case in each of these videos covering the basics of the case and how the jury was critical to a just outcome. If you are suggesting a case we may not yet be aware of, please include some background on it!
Jurors Are CRITICAL to Just Verdicts!
Starting sometime in the noon hour (Mountain Time) on 5 September 2020, we will be posting videos periodically throughout the afternoon of individual stories that highlight jurors' critical role in safeguarding justice. We'll end the day's celebration with the story of William Penn whose famous acquittal inspired and is commemorated on Jury Rights Day. Please pop in here throughout the day to watch them and share them with others to help create more fully informed jurors!
The Treason Trial of John Lilburne
by Robert Anthony Peters
Vice Chairman, Fully Informed Jury Association
A Trial for a Crime Instigated by the DEA
by Clark Neily
Vice President for Criminal Justice, Cato Insitute
Jury Acquits Ohio Machinist
by J.D. Tuccille,
Contributing Editor, Reason magazine
The Camden 28
by Nathan Goodman
FIJA Speaker and PhD Fellow, Mercatus Center
Coming up next:
The Trial of John Peter Zenger for Seditious Libel
by Kirsten C. Tynan
Executive Director, Fully Informed Jury Association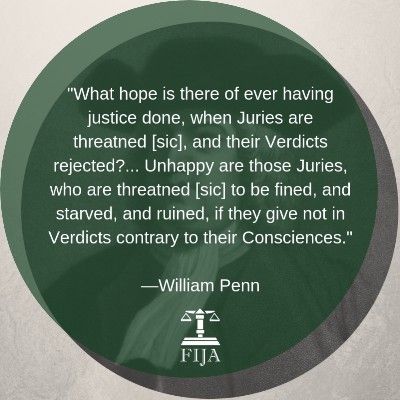 History of Jury Rights Day
On this day in 1670, William Penn of London was arrested for publicly preaching the Quaker religion in violation of England's Conventicle Act, which outlawed the public practice of religions other than the Church of England.
Though he had technically broken the law, Penn pled Not Guilty. Nonetheless, the court repeatedly demanded that the jurors find Penn guilty, rejecting any other verdict and sending them back to deliberate again and again. To coerce jurors to convict Penn under this unjust law, the court jailed the noncompliant jurors in England's notorious Newgate prison during deliberations. The court withheld from them food and water, tobacco, fire, and even so much as a chamberpot.

Despite this abuse, jurors refused to comply. Eventually the court accepted their Not Guilty verdicts for both Penn and Meade, but then fined them forty marks each in punishment and sentenced them to confinement once again in Newgate prison until their fines were paid.
Some of the jurors appealed the fines and imprisonment.  In this appeal, known as Bushel's case after the jury foreman Edward Bushel, the higher court ruling confirmed that jurors cannot be punished for their verdicts, even if a law has technically been broken. Penn's and Bushel's cases not only firmly established our jury rights in the common law tradition, but also laid a foundation for freedom of religion, freedom of speech, and freedom of assembly that we hold dear still today.
Jurors' refusal to enforce unjust or unjustly applied laws is known as jury nullification, jury veto, or conscientious acquittal. It is a crucial tool that citizens have to restrain government. This authority is our peaceful protection to stop corrupt government servants from violating our rights.