Keith Wood
Case Summary
Michigan Supreme Court No. 159063 (opinion filed 28 July 2020)
Court of Appeals Case No. 342424
Mecosta Circuit Court LC No. 17-024073-AR​​​​​​​
District Court No. 15-45978-FY
false jury tampering charges for sharing FIJA brochures outside the Mecosta County Courthouse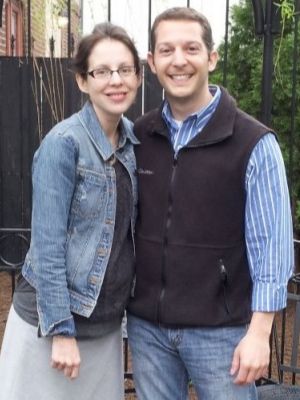 On 24 November 2015, just two days before Thanksgiving, Keith Wood was wrongfully arrested at the Mecosta County Courthouse in Michigan for sharing FIJA's Your Jury Rights: True or False? brochure on the public sidewalk.
While handing out brochures to any passerby who wanted one, Wood was repeatedly approached by courthouse officials, ultimately being threatened with arrest if he did not accompany them inside. Once he reluctantly went inside, Judge Peter Jaklevic ordered him arrested. He was also questioned without legal representation by the prosecutor in his case.
His bond was set at $150,000—far higher than is set for many who are accused of serious crimes such as murder or attempted murder. In order to get out before the holiday weekend, Wood paid $15,000 charged on a credit card.

A bond is not supposed to be punitive, but rather only to serve as a guarantee that the defendant shows up in court. Wood owns a home and a business. He is a husband and father of eight (seven at the time the bond was set). He poses no danger to the community.

Wood's attorney David Kallman said that an appropriate measure would have been to release him on his own recognizance. The outrageous amount appears to have been meant to be punitive and to have kept him in jail over the long holiday weekend.

Kallman argued for it to be reduced, and Wood's payment was refunded to him quite a while later. Wood was, however, left on the hook for the substantial interest charges that piled up in the months before his payment was refunded to him.

Despite there not even being a jury seated at the time he was sharing brochures, Wood was falsely charged with felony obstruction of justice (MCL 750.505) and misdemeanor attempting to influence (apparently non-existant) jurors (MCL 750.120A1), putting him at risk for up to six years incarceration.
MCL 750.505 states:
Any person who shall commit any indictable offense at the common law, for the punishment of which no provision is expressly made by any statute of this state, shall be guilty of a felony, punishable by imprisonment in the state prison not more than 5 years or by a fine of not more than $10,000.00, or both in the discretion of the court.
MCL 750.120A1 reads:
Sec. 120a.

(1) A person who willfully attempts to influence the decision of a juror in any case by argument or persuasion, other than as part of the proceedings in open court in the trial of the case, is guilty of a misdemeanor punishable by imprisonment for not more than 1 year or a fine of not more than $1,000.00, or both.
Wood's attorney successfully argued for the felony charge to be dismissed; however, the misdemeanor charge continued on to trial.
Misinformed on key issues by the judge, Wood's jury convicted him of the misdemeanor charge. The judge immediately sentenced him to eight Friday through Sunday weekends in jail along with other penalties. Despite Kallman's request that the trial judge stay the sentence pending appeal based on two major legal errors in trial, she refused to consider a stay of the sentence and had Wood immediately marched from the courtroom off to a jail cell.
Not only did the trial judge refuse to stay the sentence, which would be entirely served before an appeal could ever be heard, but all other judges in the Mecosta County Courthouse refused as well.
An emergency hearing regarding the stay, however, was held by video with a judge in a neighboring county. The judge in this hearing, recognizing that there were significant issues on which Wood could potentially prevail in an appeal, granted the emergency stay. Wood was released that same day, pending the appeal.
Aided by attorney Nicholas Somberg, the Fully Informed Jury Association was the only organization that filed an amicus brief at the Circuit Court level.
Unfortunately, in Wood's first appeal, the Circuit Court upheld the trial court, and he began serving his unjust sentence. Wood served three weekends in jail before the Michigan Court of Appeals granted his request to appeal and again stayed the sentence.
The Fully Informed Jury Association again filed an amicus brief in support of Wood, this time with the Cato Institute and the ACLU of Michigan adding their voices with amicus briefs from each. Attorneys Eric Misterovich and John Di Giacomo of Revision Legal provided their services pro bono to assist FIJA and Cato in filing in the Michigan Court of Appeals.
Oral arguments in the Michigan Supreme Court were held during the March 2020 session. On 28 July 2020, the Michigan Supreme Court filed its opinion (5-2) "that the individuals here who were merely summoned for jury duty and had not yet participated in a case were not jurors under MCL 750.120a(1)." Because the case was decided on statutory grounds, the constitutional arguments were not decided.
Case Documents
Other Resources