FIJA Speakers
Robert Anthony Peters
Vice Chairman, Fully Informed Jury Association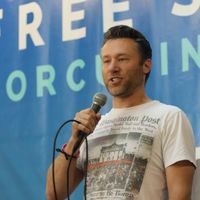 Robert Anthony Peters serves as Vice Chairman of the Fully Informed Jury Association. He is a professional actor (theater, film, voiceovers, and audiobook readings) and SAG-AFTRA member, an award-winning filmmaker, and a frequent lecturer on a variety of pro-liberty topics. Robert also serves a policy advisor for the Heartland Institute, is a member of the inaugural Foundation for Economic Education Alumni Board, leads discussions for Liberty Fund, and is a contributor to The Freeman.
Currently he lectures internationally with a special focus on the relationship between art and liberty. His recent engagements include speaking at a number of film festivals screening his film Tank Man. Inspired by the iconic image of a man blocking tanks in Tiananmen Square in 1989, Tank Man is a short film inspired by the actions of a man who was willing to thwart the progress of one of the most powerful governments in the world. It has won several awards including the award for Best Short Film at the 2019 Whistleblower Summit and Film Festival and the Audience Choice Award at the 2019 Anthem Film Festival.
Presentations
The Art of Jury Nullification
In this unique presentation designed to appeal as much to hearts as to minds, Robert discusses the significance of both famous and lesser known works of art that feature or relate to the protective role of the jury. He uses these works as a foundation from which to introduce jury nullification to audiences new to the concept.
Jury Nullification 101
This introduction to jury nullification covers the historic foundations of jury nullification in the United States' criminal legal system, its legal status in our current jury system, both historic and modern examples, and an introductory tutorial on how to exercise this right in practice.
Prohibition on the Rocks: How Jurors 86ed the 18th Amendment
Through this presentation, we share with you select stories from FIJA's extensive research on the role of jury nullification in repealing the 18th Amendment (federal alcohol prohibition) less than fifteen years. Prepare for some funny stories of how jurors undermined prosecution of their peaceful neighbors for victimless alcohol-related offenses!
or ask Robert to customize a presentation to cover topics of specific interest to your group!
Past Presentations
What Can Jurors Learn from Tank Man?, hosted by the Fully Informed Jury Association on the anniversary of the Tiananmen Square Massacre, 4 June 2021
The Art of Jury Nullification, 2018 Freedom Summit, hosted by Attorneys for Freedom Law Firm and the Sandra Day O'Connor College of Law at Arizona State University, February 2018
Location: Tucson, Arizona
Available to travel: nationwide
Online presentations: yes
Email Robert (robertanthonypeters@gmail.com, cc: fijanational@fija.org) to inquire about booking a presentation.
See Robert speaking: