In Memory of Frank Turney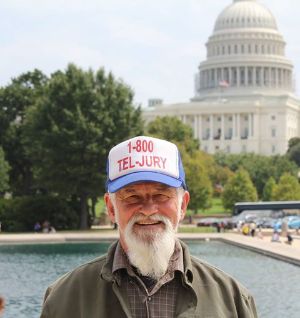 It is with great sadness that we must share with you a loss in the FIJA family. Long-time Alaska state contact and juror rights educator Frank Turney passed away unexpectedly on Monday, 25 November 2019.
Frank served as FIJA's Alaska state contact for longer than I have been with the organization. As FIJA's state contact, Frank was on the front lines each Jury Rights Day, holding events prominently in public places such as at city hall, a courthouse, or along high traffic streets in Fairbanks. Year after year, these events made it onto the local evening news, often with a soundbite from Frank creating more fully informed jurors.
With a strictly educational mission, FIJA does not promote candidates or legislation. However, Frank's work included advocating for juror rights both as part of his platform when running for local elected office in Fairbanks and keeping us up to date on the progress of proposed juror rights legislation in Alaska.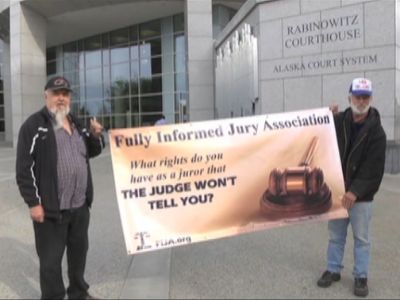 More than once Frank also had Jury Rights Day proclamations signed by government officials in Alaska. I would have to dig through our paper archives to compile a complete listing, but I can say without research that in my time with FIJA, we received proclamations signed by (at the time of their signatures) Fairbanks mayor Jerry Cleworth, Fairbanks North Star Borough Mayor Luke Hopkins, and Alaska Governor Sarah Palin.
FIJA's board of directors and former executive director remember Frank as a warm and dedicated soul. Board Chairman Don Doig says that: 
"Frank Turney was constantly in the face of Alaska's imperial judges and their courts, fighting for FIJA's message of jurors' freedom of conscience.  America will be poorer with the passing of Frank Turney, and our freedom less secure." 
FIJA Treasurer Steve Hicks reminds us of how long Frank has been advocating for jurors' rights:
"I had some limited conversations with Frank Turney when I was working a couple of summers in Alaska 20 years ago.  He worked hard informing a lot of Fairbanks residents about their juror power that no doubt resulted in a greater number of not guilty verdicts and likely fewer prosecutions of victimless crimes."
Former FIJA executive director Iloilo Jones shares with us that Frank arranged local speaking engagements for her, and FIJA co-founder Larry Dodge before her, in Fairbanks: 
"He would reserve the big public events room at the library, bring refreshments, and advertise the events. We often had standing room only crowds.  He arranged for me to make presentations on local radio and regional radio stations—in Alaska, much communication is through the radio stations, which also carry the village news and share messages between villages over the radio for remote locations. He was indefatigable in his quest for justice, running for public office, speaking at public events, championing the cause of less government interference in our lives, and speaking out at every opportunity on behalf of fully informed juries."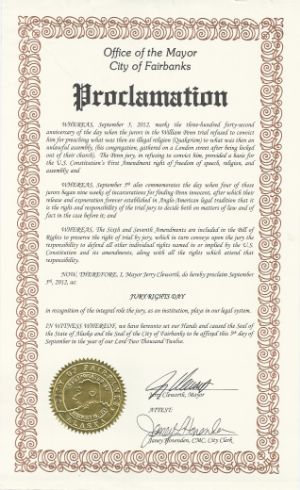 While I never had the privilege of meeting Frank in person, I knew him from our occasional correspondence and his extensive juror rights education efforts over the years as one of the most passionate, committed, and persistent juror rights advocates among FIJA's many volunteers over the years. 
On behalf of the Fully Informed Jury Association, I want to extend our deepest sympathy to Frank's family, friends, and community. We are shocked and saddened by his passing, but also grateful that we have been so fortunate to have him as a vital part of the FIJA family for so long. Frank's impact—and now also his absence—will be felt for years to come. May his years of service inspire us all to continue to do all we can to restore fully informed juries for all who need them.

Kirsten C. Tynan
Executive Director
Fully Informed Jury Association
More: