In Memory of Matthew Barnes
It is with deep regret that I share with you news that Matthew Barnes, a dedicated juror rights educator in Texas, recently passed away. Click here for his obituary.
Matthew conducted regular juror rights outreach for several years, starting around the time that an overzealous prosecutor concocted hundreds of indiscriminate and illegitimate indictments related to a shooting at Twin Peaks restaurant in Waco, Texas. Most of these were ultimately abandoned by the government without ever going to trial. None ever resulted in a conviction. 
Week after week after week, Matthew shared FIJA's educational brochures at the McLennan County Courthouse in Waco, Texas. He told me that it was typical for him to distribute 250-300 brochures each week he did this. That is an enormous accomplishment!
I did not know him as well as local FIJA activists in Texas did, so Eric Schafer, who has often worked with Matthew, has shared the following remembrance: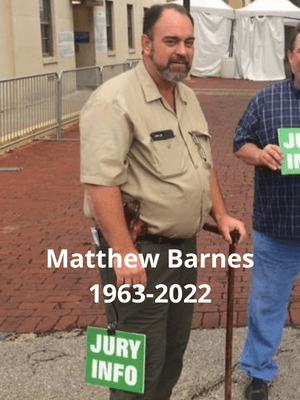 I first met Matthew Barnes at a public demonstration after Waco PD set up, ambushed, and murdered bikers who were attending a political meetingg at the Waco Twin Peaks restaurant on May 17, 2015.  As a liberty activist, I remember gathering with him and several bikers to discuss how to respond to the attack and the subsequent abuse of power by the county for rubber-stamping 177, unconstitutional, million-dollar bonds for those who were wrongfully incarcerated.

The situation was frustrating to say the least.  There weren't any actionable ideas on the table to hold anyone accountable for the oppressive behavior of both Waco PD and McLennan County, nor was there a foreseeable way to protect the ones who were still wrongfully incarcerated.

Fortunately, a persistent FIJA activist and powerful warrior in the liberty movement, Bob Smilie, had been at the recent demonstrations and through divine appointment connected with Matthew.  A short time later, the FIJA outreach at the McLennan County courthouse was born.

Because of the power of the jury being our last peaceful means to prevent wrongful prosecutions and to rein in an out of control government, the FIJA organization gave hope and opportunity to an otherwise dismal outlook on a seemingly impossible goal.  Matthew seized that opportunity like he did many things in his life. He organized and executed the longest running courthouse outreach in US history.  The outreach lasted nearly 3.5 years until COVID-19 restrictions ended jury trials in McLennan County.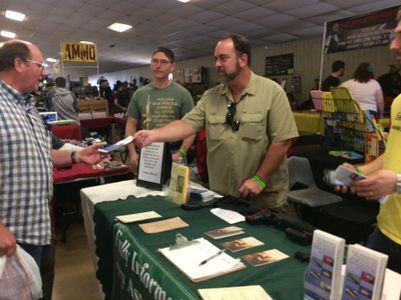 During that time, the first and only trial for the Twin Peaks massacre, costing county tax payers more than $1.3 million, ended in a hung jury.  The district attorney who orchestrated the criminal actions by the county later lost in the next primary election.  There were other success stories as a result of informed juries because of Matthew's FIJA outreach, but those did not draw notable attention.

The year-round outreach wasn't easy, though.  In addition to some very cold and windy mornings, hot and muggy mornings, and even rainy mornings, Matthew and the activists who helped him were often harassed and threatened by sheriff's deputies for the first year or more of their outreach.  Cooler heads prevailed, however.  After some visits to the sheriff's office, some letters to the sheriff, and an unexpected visit in the Waco airport with the sheriff one Sunday evening, the sheriff later put leashes on his deputies at the courthouse.

Matthew participated in many FIJA outreaches at local gun shows helping to educate jurors on their rights and their duty to judge not only the facts of the case but also the law itself.  He was a ferocious defender of liberty, and his presence will be missed, but his legacy will live on in the hearts of those who knew him and in the freedoms enjoyed by those who didn't.

—Eric Schafer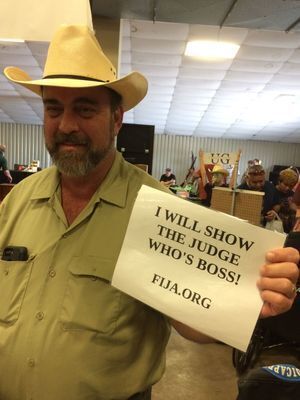 We were so lucky to have Matthew as a stalwart juror rights educator for so long. It is impossible to quantify how many new fully informed jurors there are in Texas because of his tireless efforts, but it is surely many thousands. Words are inadequate to convey the importance and impact of his work.
I have been asked if donations can be made to FIJA in memory of Matthew. If you would like to do so, please make your donation here.
When filling that page out, check that it is in memory of and fill in Matthew's name. If you do and also check that we may publicly thank you for your donation, we will add your name to this page and let the family know that you donated in honor of Matthew. If you have not given us permission to publicly thank you, we will announce it as an anonymous donation in his honor and keep your name private.
Kirsten C. Tynan
Executive Director
Fully Informed Jury Association