Welcome to the Courthouse
Get Your Courthouse URL
As part of the Welcome to the Courthouse program, the FIJA national office is putting together customized pages for you to broadcast at specific courthouses. The idea is that somewhat customized graphics and verbiage provide a more personalized experience to the courthouse visitor who receives your beacon broadcast. We also include locally relevant information when possible.
If there is not yet a page for your local courthouse, you can request a page be created for your local courthouse. We may request that you take a photograph of the courthouse for which you are requesting a page that we can use to customize the page. Priority will be given to making pages for courthouses where ongoing outreach campaigns are in progress.
Check below for your courthouse page. If you do not see it, you can request that we create a page for a specific courthouse. Until that is completed, please use the general page designed for use at all courthouses in the United States
Once you have the URL for your local courthouse page or for the general page for all courthouses, you can broadcast it from a beacon app. Click below for general instructions on beacon apps for your smartphone.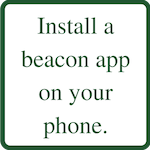 Colorado
Pennsylvania
Texas