Flat Smilie Challenge #2
Flat Smilie's Summer Road Trip
Help one Flat Smilie travel as far as possible and visit as many courthouses as possible before Jury Rights Day!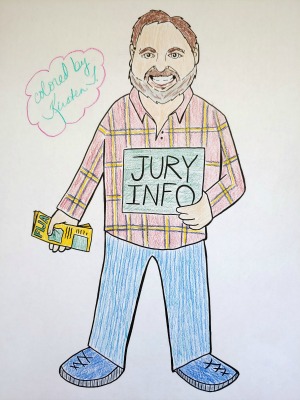 In this challenge, you'll work with others to move one Flat Smilie along a summer road trip route.
This challenge requires a team effort to move one Flat Smilie along a road trip with multiple stops.
Print out Flat Smilie, color and decorate him in a positive and education-friendly way, and take him down to your local courthouse along with a FIJA brochure. Get a photograph containing: 
your Flat Smilie,
the FIJA brochure, and
the courthouse
(You may also want to scan a quality image of him in case we ask you to submit it for a Flat Smilie Hall of Fame!)
Give the brochure to someone while you're there to create another fully informed juror (they don't need to be in the photo). Then mail your Flat Smilie (along with the URL of the instructions here) to someone else to do the same in their area and pass him along.
Then click here to submit your photograph of Flat Smilie at the courthouse.
At each stop, Flat Smilie's host or hosts should fill out the form on the page linked above and submit their photograph. That is the only way we will count a stop as part of the road trip.
We'll track where each Flat Smilie travels around the country and announce on Jury Rights Day the top traveling Flat Smilies and their hosts in the categories:
Furthest Distance Traveled (calculated by the most efficient route that Google Maps suggests),
Most Courthouses Visited (each courthouse is counted only once)
Most States Visited (each state is counted only once)
We'll post these photos along with their locations along with who decorated and submitted them.* Come back here to keep track of where Flat Smilie is going on each road trip!