Flat Smilie Challenge #1
50 States in 50 Days
Help Flat Smilie educate jurors at a courthouse in all 50 of the United States!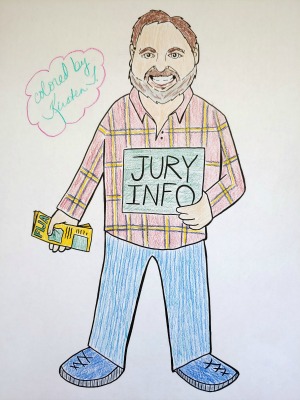 Between you and other volunteers, the goal is to help Flat Smilie do juror rights outreach at a courthouse in each of the 50 states in the United States in 50 days. You don't need to visit all the states yourself to participate. Visit as many courthouses as you like, but visiting even JUST ONE could get your Flat Smilie on the map!
Simply print out Flat Smilie, color and decorate him in a positive and educational way, and take him down to your local courthouse along with a FIJA brochure. Get a photograph containing: 
your Flat Smilie,
the FIJA brochure, and
the courthouse
Give the brochure to someone while you're there to create another fully informed juror (they don't need to be in the photo).
Then click here to submit your photograph of Flat Smilie at the courthouse.
We'll post these photos along with their locations along with who decorated and submitted them.* Come back here to keep track of which states Flat Smilie has visited on our map! The 50 days starts when the first Flat Smilie goes on the map!
Request Brochures
Do you need brochures in order to complete this challenge? Give us your name and address, and we'll send you a few for free.

(Don't just discard them! We send these at no cost to you thanks to generous donors, but we have very limited funds! To make the best use of our very limited resources, we will only send more free brochures for future challenges to you if you submit an entry.)